The Seduction

"There is nothing either good or bad, but thinking makes it so.'' ~ Shakespeare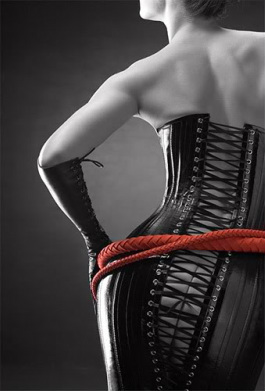 The Seduction

We are finally in the dungeon together; you a willing captive, My domain. Surrounding us, the candles' flames flicker their provocative dance upon the chamber's stone walls. Intoxicating aromas fill the air; deliciously-seductive perfume, leather equipment, exotic incense. It is a sultry sensual evening, excitement abounds. The time has come; the hour of reckoning. Hedonistically ravenous, you have come to be fed that erotic POISON you CRAVE.

''Tonight, you shall serve and worship Me,'' I command you.''Yes, Your Highness,'' you respond... both of us undeniably understanding that like a cat with her sweet little imprisoned mouse, you're simply My plaything. Desirous of pleasing Me, you're eagerly willing to obey all; deeply lusting for the rewards -- that seductive titillation... that pain... that pleasure... that erotic POISON you CRAVE.

Our Erotica Adventure Begins...

As protocol dictates your proper prostration, I tower over you; riding crop, collar, & unbreakable chain link leash in hand... the de rigueur symbols of your captivity, servitude, & complete submission. Thus, once I collar you, I begin to move about the dungeon chamber preparing for what is to come -- your demise, My entertainment... expecting you fully understand to remain still & silent until commanded otherwise.

My luscious raven mane sensually cascades to the waist of My tightly-fitted black leather dress. My garter'd & stocking'd shapely feminine legs and perfectly-pedicured high-arched size 6.5 stiletto'd feet present forth My 5'11'' -- quite intimidating for you to behold; a glorious erotically-powerful statuesque display of sinfully-seductive Alpha Femme Domina Vixen curves. Those of which command the utmost of attention, respect, & worship. So you relish those last moments left between us before the impending blindfold and gag to come, when you still have the privilege - but ONLY with My permission - to speak and sneak a peak at My deliciously stellar 41D-29-41... that erotic POISON you CRAVE.

Seduced? Desire immediate demise live-in-the-flesh? Call Me now, or visit the ''Contact'' page to email Me your proposal of submission and servitude. And also visit the ''Know Me,'' the ''Sessioning,'' and the ''Specialties'' pages to learn further how I shall have My way with you.

If you cannot arrange a NYC visit, you may serve Me via other venues; alternate privileged routes into My Royal Realm. See the ''Goodies'' page of this site to gather My remote location commands, and you are now dismissed.